We Have The Required Training To Restore Your Mahopac Home After A Flood Damage Disaster
5/30/2019 (Permalink)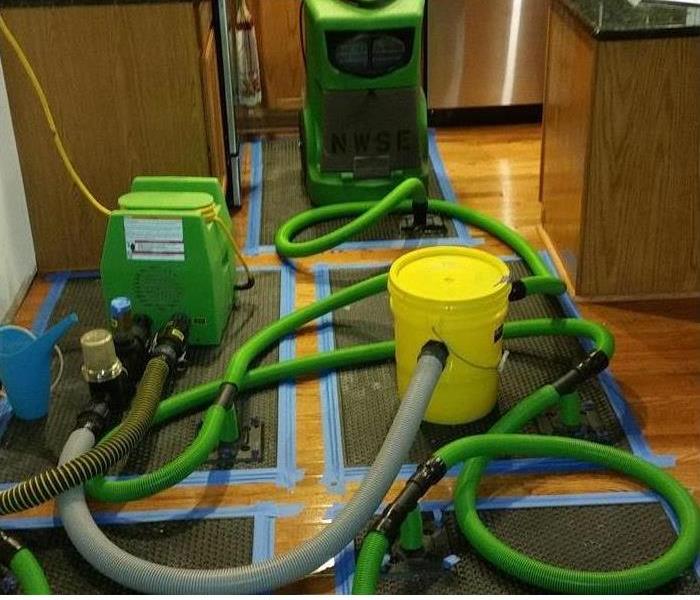 We have the necessary equipment to handle drying in order to get your house back to looking like a home. We are available 24/7 to assist you.
Intense Storms Deliver More Than Flood Damage in Mahopac
After flood damage happens in a home, the faster cleanup efforts begin, the more potential there is to limit water loss for both building materials and contents. If the cleanup efforts fall short or are otherwise incomplete, secondary issues such as foul odors and mold become issues.
Our SERVPRO team responded to a call to assist with flood damage in a Mahopac home. A tree limb broke a window during a storm and rainwater soaked one section of a room while the homeowner was at work two days prior. She had cleaned the water up, used fans to dry the carpet, and had the window repaired.
When we arrived, it was immediately apparent that water alone was no longer the most significant issue. The homeowner showed our technicians where the water damage occurred, the carpeting felt dry to the touch, but our probes showed excessive moisture underneath. An upholstered chair that was near the window also showed signs of moisture retention and a strong odor.
SERVPRO technicians have training and certifications in the science of applied structural drying. We know that ordinary household fans do not have the power to dry water-logged objects thoroughly, higher velocity air is needed to pull out deeply seated moisture.
First, we used weighted extractors to push any remaining water out of the carpet and padding, and then with the homeowner's permission, we lifted one side of the carpet in a technique called "floating" so adequate airflow from our air movers happens which works to pull moisture from the padding and carpet underside.
We used our air movers with dehumidifiers. This method works to lower moisture levels in a room quickly as the air movers cause water vapor to rise, the dehumidifier removes it and ports it away from the area. This way continually dry air blows as the humidity levels in the room progressively lower, resulting in faster drying.
Complete drying of the carpet, padding and chair reduced odor levels in the room substantially. Our technicians have different kinds of odor control equipment when stronger efforts are required. We chose to use an ultra-low volume (ULV) fogger. Using a water-based deodorizer, it spreads like a fog and neutralizes odors, leaving the room without pungent reminders of water damage.
When flood damage happens, call SERVPRO of Putnam County at (845) 228-1090, and our technicians can be on-site within hours to mitigate your water loss and make it "Like it never even happened."
Click here for more information on the marina that has been keeping families afloat since 1967.