We Can Repair And Restore Your Fire Damaged Home In Mahopac
6/4/2019 (Permalink)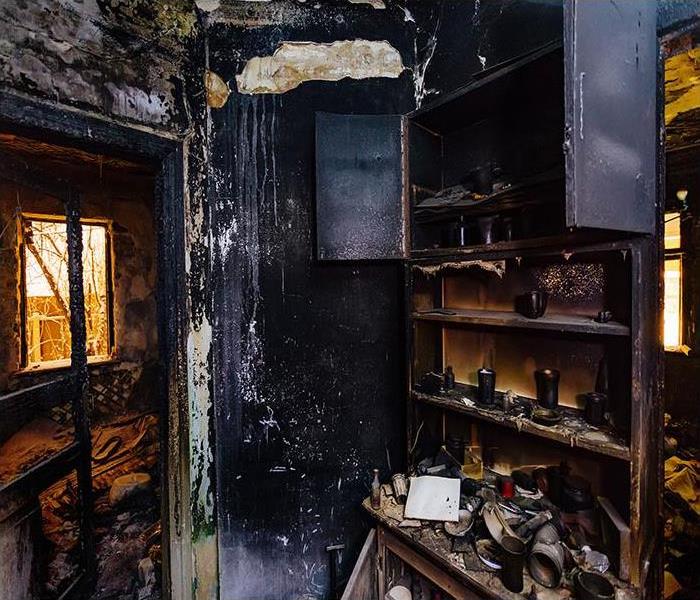 Our skilled technicians have the certifications and training to handle any type or size fire damage. "Like it never even happened."
Getting Fire Damage Home In Mahopac Ready For Rebuilding
An essential part of reducing loss from fire damage is retaining as much of the structure as possible for rebuilding. This saves not only time for property owners but also out of pocket expenses.

When our SERVPRO technicians answered a call from a Mahopac homeowner to mitigate fire damage to her home, just under half of the house was a loss. An overheated plug caused a fire inside a wall which raised upwards and burned through the attic and roof.

Our experts placed a tarp over the damaged roof area and then contained the affected area from the portion of the home without charring, but the entire premises had a strong smoke odor. Our technicians arrived within hours of the initial call and immediately carried off-site the charred home contents and building materials with no potential for restoration through our proprietary techniques.

The home had no electricity due to the fire, and we brought our generators to power our portable extractors while removing water and for powering our other necessary equipment. Using a technique known as "controlled demolition," we removed the damaged sheetrock but were pleased to find the framework unharmed so the homeowner could rebuild their home without the need for replacing the structure in the fire loss areas.

Deploying air filtration equipment that included HEPA filtration to remove dangerous particles from the property during drying helps speed the restoration process along. Once SERVPRO technicians completed that phase of restoration, it was time for odor removal.
Sometimes, in the case of strong scents, more than one removal technique to remove deeply embedded smoke odors successfully is needed. There is no point in rebuilding over residual odors as they can permeate fabrics, furnishings, and other porous materials.

Our technicians used first hydroxyl generators, which is a safe machine that uses the same hydroxyls as our sun. These elements bind to odor molecules and change them, eradicating the odor. The framework and rest of the home carried a light, smoke odor, so we used thermal fogging to neutralize the remaining odors and thoroughly cleaned the ductwork to give the house a fresh start for rebuilding.

SERVPRO of Putnam County at (845) 228-1090 when you need assistance with fire damage. Our skilled technicians have the certifications and training to handle any type or size fire damage. "Like it never even happened."
Click here for more about Mahopac.