Snowstorms cause water and fire damage in Mahopac, NY
1/8/2019 (Permalink)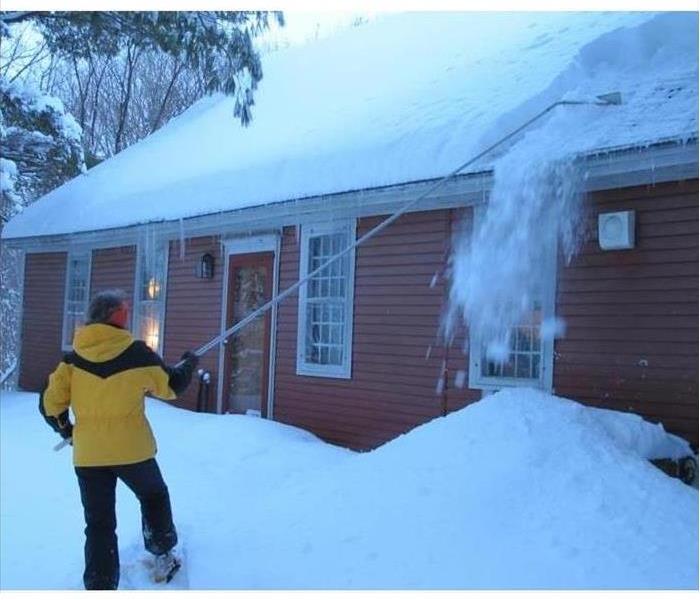 Raking the snow off of your roof will help you avoid ice dams, which can cause water and mold damage to your Brewster home.
Winter is around the corner and with it will come snowstorms in Putnam County. Before the storm, there are steps that you can take to lower the risk of damage to your home.
1. Check the shingles on your roof to ensure that they are not damaged and are properly installed. Damaged roofing shingles can allow water to enter your home through the attic, causing water and mold damage.
Avoid ice dams by using a roof rake to clear snow off of your roof. Also make sure that your attic is properly insulated, as this will reduce the risk of ice dams, which can cause water damage to the interior of your home.
If you have a woodstove or fireplace, have your chimney cleaned annually to reduce the risk of fire. If there is a power outage, heating your home will be necessary to avoid frozen pipes!
Have an emergency supply kit which includes enough food, water and medicine for at least 5 days.
If you have a generator, make sure you have extension cords handy and enough gas for several days. Generators should always be used outside of the home.
Burst pipes, ice dams and chimney fires are some of the damage that can occur from snowstorms. Hopefully, by taking these few precautions beforehand, you can sit back and enjoy the snow!