How Fire Damage Burns up Profits in Your Carmel Business
8/23/2019 (Permalink)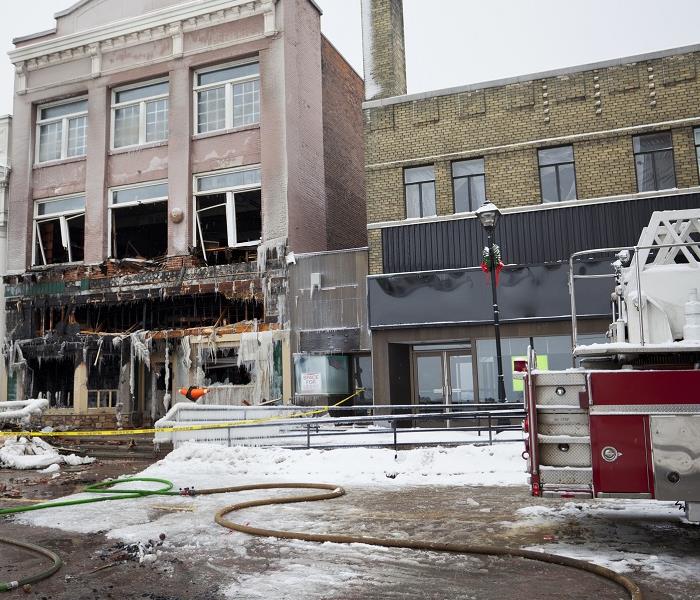 After the fire, you need a professional restoration team. SERVPRO of Putnam County is at your service!
Commercial Fire Damage Repair and Restoration in Carmel
Carmel is, perhaps, in the perfect location for both commuting to work and as a weekend getaway. Regardless of how long a person spends in town, local delis are an essential part of daily life. When one of these, or any, the commercial operation is shut down for an extended length of time, it can mean the end of the business.
Commercial fire damage in a Carmel business can include everything from physical damage due to the heat, to flooding from the fire department's efforts to stop the blaze. When it comes to remediation and repair, SERVPRO response teams can handle all of it up to major construction.
Every business needs our type of full-service support. Almost any agency can clear away scorched furniture, appliances, and other debris. Not every agency has the training and experience to examine a set of chairs that look ready for the dumpster and understand they can be cleaned using powerful chemicals and intense methods like immersion to break apart the layers of smoke residues and return them to a useful condition.
Since this is a business involving food preparation and service, SERVPRO technicians also clean every surface to county and state health standards. Among our inventory of cleaning agents are sterilants more potent than bleach that eliminate the threat from smoke residues and mold spores that can contaminate food and serving dishes after a fire.
In some cases, remediation and repair are not enough. When an oven, refrigerator, or other appliance suffers catastrophic damage, team members can quickly remove the damaged item for disposal according to state regulations. Our administration personnel then work with the insurance company to make sure the customer has access to the full replacement cost to buy a new one, and then help install it. The team leader then schedules an inspection with the local utility company to have their work approved.
It's not just about customers for us. The owners of SERVPRO of Putnam County grew up here. If you need our services in Carmel, Mahopac, Kent, or Patterson, we are the agency to help return your home to its pre-fire condition. Call us today at (845) 228-1090 to get started.
More about Carmel.