We Put The Flames Of Worry Out In Mahopac After A Fire
3/1/2020 (Permalink)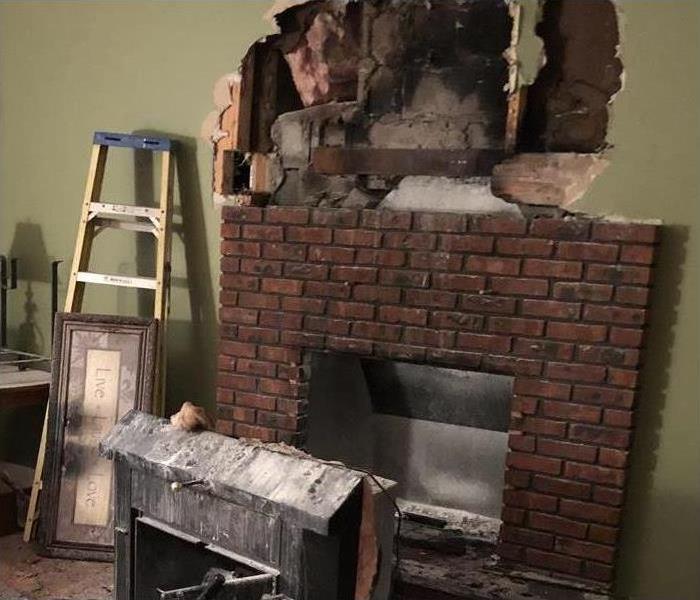 This chimney fire was minimal and we were able to get the homeowner's back into their home as quickly as possible.
Restoring Mahopac Homes After Fire Damage
Despite having Lake Mahopac and Kirk Lake inside the city limits, Mahopac residents understand that fire can still strike any home. A swift, expert response can mean the difference in thousands of dollars in repair and restoration costs in even a small fire.
Fire damage in Mahopac can be everything from a cigarette fire in the bedroom to the thick, pungent residues generated by a fire in the garage that spreads through the home. SERVPRO response crews train their personnel as Fire & Smoke Damage Restoration Technicians, or FSRTs. These specialists use the latest cleaners and equipment to clean every surface in a home from drywall to upholstery and linoleum to wood.
Each team member is highly qualified to perform four primary actions. Each is designed to loosen residues from surfaces after fire damage. Depending on the type of residues and surfaces, specialists use Chemical, Lubrication, Mechanical, and Suspension and Dispersion methods.
Chemical methods alter residues after FSRTs apply a cleaning agent. The alteration allows them to more easily remove them with sponges, vacuums, and extraction wands to pull residues off floors and out of carpets.
Lubrication methods break the link between surfaces and residues by making the contaminants slippery. The detergents and other cleaners surround residues so they nearly slide off surfaces by wiping them off with a sponge or cloth. Lubrication is especially useful on metal and glass surfaces.
Mechanical methods break up the residues with stronger cleaners and devices that agitate the residues on diverse surfaces such as fabrics, metal, stone, wood, and marble. Where certain surfaces like fabrics and wood absorb cleaners, FSRTs use scrub brushes or mechanical agitation devices exclusively to remove not just fire residues, but soil and other contaminants as well.
Suspension and Dispersion is the most common method used by team members, however. They loosen and suspend residues within the cleaning product, which becomes suspended in the solution, and eventually disperses into the mixture. It is a method especially useful for drywall and other building materials.
At SERVPRO of Putnam County, we understand that a home is far more than four walls and a roof. Our response teams use every method available to clean and restore property and memories for homeowners here and in Southeast, Kent, and Carmel. To schedule a service call and receive an estimate, call today at (845) 228-1090.
See more about Mahopac.