Get Away From The Bustle Of NYC In Picturesque Carmel
12/21/2020 (Permalink)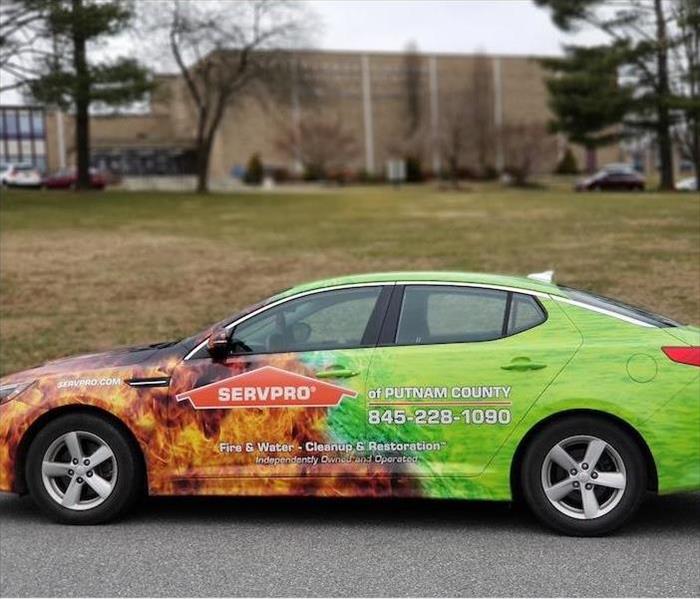 Fire damage is no laughing matter. Call the IICRC trained professionals of SERVPRO for the fire restoration services you need.
Carmel Is A Charming Historic Town With Plenty Of Open Space
When people think of NYC, they naturally think of the hustle and bustle. The city's vibrant busyness is fun, but sometimes you need a quieter place to relax and take some time out. Carmel is situated just an hour away from midtown Manhattan, but spend an hour here, and you will think you are in the country, far away from the rush.
Explore Picturesque and Historical Places In and Around Carmel
Carmel is full of exciting and pretty places to visit. A trip here is a lovely way to spend some leisure time and unwind from everyday life stresses. While you are in the area, why not check out:
The Reed Memorial Library is the oldest in Putnam County. In 1911, local woman Arietta Crane Reed donated the money for a dedicated library building in her husband's memory. The library is a one-story stone building with a slate roof and three gables. The library is the only prominent example of Tudorbethan architecture in the Carmel area. It features an oak-paneled oval lobby, marble trims, and a rather unusual mantel carved in the shape of monks' heads.
The Putnam County Courthouse is a historic courthouse in downtown Carmel that was built in 1814. In 1847, architect James Townsend undertook extensive renovation. Townsend added a Classical Revival style portico and columns, and copies of column sections from the Monument of Lysicrates, near the Acropolis in Athens. The result is a striking looking building which is on the National Register of Historic Places.
Carmel Hamlet is a village that is home to both the Putnam County Courthouse and the statue of Sybil Ludington. You can also enjoy viewing several historic buildings or relax beside the picturesque Lake Gleneida.
Visit the village of Mahopac, which is contained within the bounds of Carmel. Mahopac is home to a library with a reading room overlooking beautiful Lake Mahopac. It is also home to the Carmel Historical Society Museum, where you can see many interesting artifacts. You might also recognize some famous filming locations. For example, several scenes from the 1982 movie Tootsie were filmed outside the Mahopac Farm Playhouse.
The area is also home to several lakes and waterfalls where you can get fishing and boating permits. There are many lovely lakeside homes in and around Carmel, and you can find plenty of pubs and restaurants to relax in the evening and enjoy the views.
Find Your Inner Peace At A Nearby Monastery
Anyone seeking peace will want to schedule a stop at Chuang Yen Monastery in nearby Kent. This peaceful place, whose name means "majestically adorned," is a working monastery, so it is advisable to check online when it is open for visitors. Once you are there, you can:
Walk around the peaceful grounds and sit by the lake for some contemplation.
Visit the Woo Ju Memorial Library with its extensive collection of Buddhist books.
Book a place on a retreat or class.
You can also view the largest Buddha Vairocana statue in the Western Hemisphere. Buddha Vairocana is a celestial Buddha, and the figure stands 37 ft tall. 10,000 smaller Buddhas surround it, and there are other statues throughout the temple and grounds – indeed an impressive site and an unforgettable place.
A Local War Hero Warned Putnam County Residents About British Fires
Of course, things have not always been peaceful in Putnam County. The Carmel area is home to a unique Revolutionary War hero named Sybil Ludington. Ludington was born in 1761 in nearby Fredericksburg, NY, which is now named Ludingtonville in her honor.
Sybil's father fought in the French and Indian War, so he volunteered to lead local militia during the Revolutionary War. Sybil and her siblings saved her father from capture when Ichabod Prosser led a band of loyalists to attempt to capture her father. The Ludington family, led by Sybil, lit candles around the house and then marched around it militarily. This fooled Prosser and his loyalists into thinking the house was under military guard, and they made no captures that night.
In 1778, when she was just sixteen years old, Sybil undertook a ride of 40 miles to warn militia in the Carmel and Putnam County areas that the British were coming. Her father had learned of a planned British raid on the town of Danbury and dispatched Sybil to sound the alarm. As she rode, she banged on the shutters of the homes she passed, shouting, "The British are burning Danbury!"
By the time Sybil rode through Carmel and on to Mahopac and Farmers Mills, she was soaked through and suffering exhaustion. However, by the time she got home again, she had 400 troops ready to march. Although the forces could not prevent the attack on Danbury, they were able to drive the British to Long Island Sound. General George Washington himself congratulated Sybil on her bravery.
Sybil died in 1839 and was buried in Patterson Presbyterian Cemetery, Patterson, NY, where you can still visit her grave. There is also a statue in her honor right here in Carmel.
SERVPRO Helps Residents Deal With Fire Damage
Unfortunately, we do not all have a Sybil Ludington to warn us of approaching fire. However, SERVPRO understands that Carmel Residents are worried about the effect of fire damage, and we are here to help.
We are Faster To Any Size Disaster, and we aim to arrive at your home within four hours of your initial call to us. Time is of the essence when dealing with fire damage because:
The longer soot is allowed to sit, the harder it is to scrub it away.
Your home and contents might be wet from firefighting efforts, which increases the risk of mold growth.
The sooner we start cleanup efforts, the better the chance that we can save your personal belongings.
Our experienced technicians take care of every aspect of fire damage repair. We scrub and vacuum away soot and can also use media blasting on exposed brick or wood. We restore as many of your belongings as possible and send textiles and clothes out for specialist cleaning. We also dry out any areas that are wet from firefighting, and we can talk to your insurers on your behalf.
SERVPRO of Putnam County is here to help you deal with fire damage in your home. Call us today at (845) 228-1090.