Fire Damage Restoration Includes Smoke Remediation in Carmel
5/30/2021 (Permalink)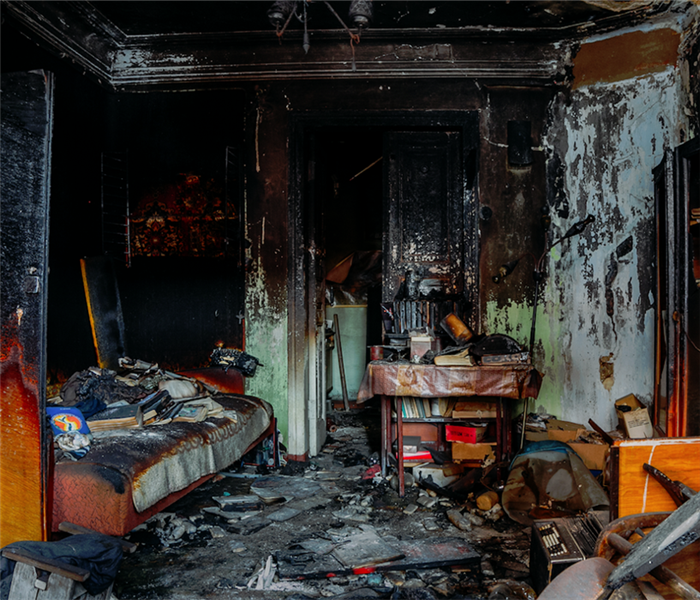 Affected by a recent fire and smoke damage situation? Call our SERVPRO team for the certified technicians and the equipment to remediate the damage.
SERVPRO Handles Fire Damage and Smoke and Soot Clean Up for Carmel Residents
Invasive in nature, soot and smoke can make their way into various cavities throughout your Carmel home. This makes it challenging to eliminate with DIY methods, but you run the risk of lasting foul odors and corrosion from soot and smoke residue acidity. SERVPRO has highly-trained technicians that will tackle your fire restoration, ensuring no area gets left unaddressed where smoke, soot, and indoor air quality (IAQ) are concerned.
When handling fire damage in Carmel, our technicians understand that there is a lot to remember about soot and smoke. Not only will there be charred debris, but several facts about smoke particles and soot residue include:
Smoke travels into upper levels of a building and cooler areas
When traveling, smoke can get into plumbing and HVAC systems, as well as holes where piping is networked from one floor to another
The kind of smoke present will impact how our technicians proceed
Understanding Different Types of Smoke
There is both wet and dry smoke that our fire damage restoration team encounters. We determine which residue is present before selecting equipment, tools, and cleaning products for the job.

Dry smoke is fast-burning and comes from materials like wood and paper
Wet smoke occurs at lower, smoldering temps and comes from rubber and plastics
Protein-based smoke is not detectable to the naked eye, and it comes from kitchen fires and material evaporation rather than the fire itself
Trust the restoration of your fire and smoke damage to the trusted team at SERVPRO of Putnam County. You can reach us at (845) 228-1090, and we will dispatch a crew as quickly as possible.