What Is a Good Water Mitigation Approach When There Is a Ceiling Leak in Your Carmel Home?
10/12/2021 (Permalink)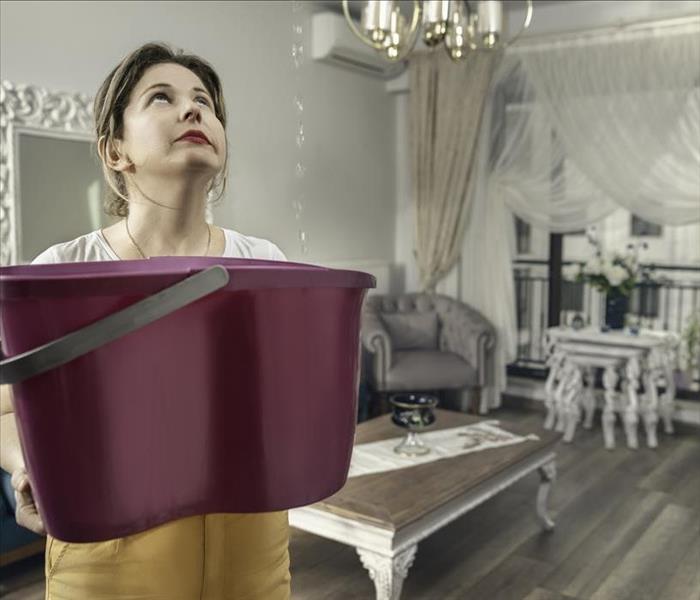 When water damages your ceiling, call SERVPRO for fast and immediate water damage restoration services for your home. Call now!
SERVPRO Plans a Gradual Restoration Process to Help Protect Unaffected Areas and Contents
If the pipes passing through the ceiling space spring leaks, damage to insulation, ceiling tiles, among other materials, is inevitable. Roof leaks can also have the same effect. The right response is necessary to restore preloss conditions at your Carmel property.
Although initially, damage may be contained in the ceiling, there is a potential for spreading further, thus increasing the cost of water mitigation in your Carmel home unnecessarily. Your efforts to deal with the water intrusion might also cause unexpected damages if you destroy essential utilities such as power cables or release trapped water and debris over vulnerable contents. Our SERVPRO teams can help you mount a response without creating such additional problems.
Some of the main processes necessary to deal with the damage include:
Identifying utilities such as electrical running through the ceiling
Demolishing the affected parts to remove deteriorated ceiling panels
Protecting contents in the rooms below from water exposure and soiling
Our SERVPRO teams have the expertise and equipment to handle such tasks with ease. For instance, we bring tarps or plastic sheets to the loss site, which help cover contents like furniture exposed to water and debris once we start demolishing the ceiling.
We locate utilities safely by relying on our vast experience and handy tools. For example, stud finders ease the task of identifying electrical placement if the ceiling has not collapsed but requires demolition. Elevated access equipment such as foldable ladders also helps ease the demolition process and prevent accidents since technicians do not have to strain to reach affected areas.
Once the water trapped in the area is released and the deteriorated materials removed, we set up moisture management equipment such as air movers and dehumidifiers to dry excess moisture before the area can be rebuilt and refinished.
SERVPRO of Putnam County is well equipped to manage water mitigation in any property. Call us at (845) 228-1090. We're Faster To Any Size Disaster.