If You Need Restoration Services, You Can Trust Us
5/22/2022 (Permalink)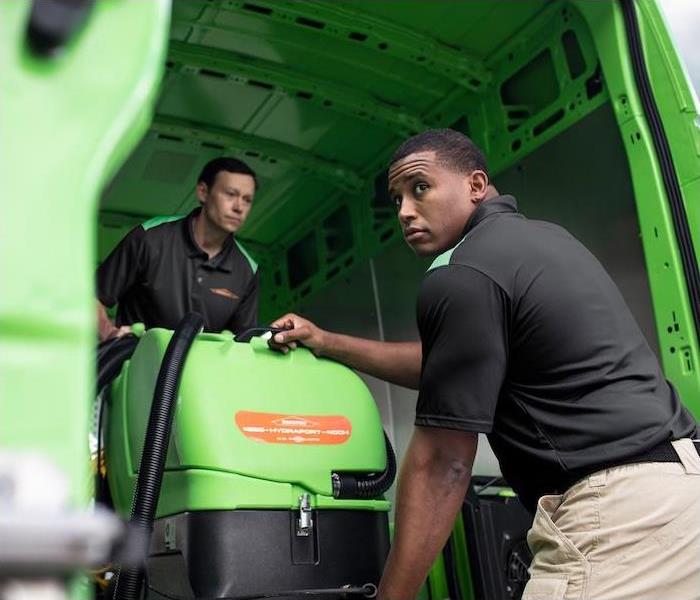 SERVPRO of Putnam County is your local restoration expert. We are the #1 choice in cleanup and restoration.
At SERVPRO of Putnam County, we pride ourselves on having a team of experienced professionals who make all the difference in restoring your home or property. In our line of work, we meet individuals when their lives are turned upside down, and the experience that we bring to the table is important.
Our professionals will work closely with you during the restoration process to have as little disruption as possible to your daily activities as possible following these types of damage.
Water Damage
Did you know floods cause $10 billion in damages nationwide every year? Flooding is something that will likely affect your home at some point in time.
When water overflows into a property, it does not discriminate, and any item within reach is submerged. However, the damage it causes in different items within the affected area varies. It is necessary to follow the right procedures to save valuable items in your property after a water loss incident.
That's why you need to call up SERVPRO of Putnam County—we have the tools to detect hidden moisture and extract standing water. In addition, we will help you put together a water damage restoration plan to make sure your home is clean, dry, and restored to preloss condition.
Fire Damage
Threats to your home or business can come in all sorts of forms, which is something that home and business owners know all too well. However, have you thought about the threats that a fire could pose?
While often underestimated, fires occur every 23 seconds in the United States and can cause extreme amounts of damage. They caused roughly $8.1 billion in direct property damage and losses nationwide in 2020.
We will help you deal with this damage by performing an inspection and damage assessment and progress through all the necessary, in-between steps before starting repairs and construction.
Storm Damage
During severe weather events, the damage caused by debris can be exacerbated by wind-driven rain entering your home through the hole in the roof. Massive amounts of erosion can also take place.
Oftentimes, the remnants of hurricanes or tropical storms can hit the county due to New York's proximity to the coast. For example, Tropical Storm Ida led to multiple flooded homes, businesses, and roadways last year.
Storm damage to your home or business is something that needs to be addressed as soon as possible to avoid further damage.
We can help. Just one phone call can set you up to get your property back into pre-storm shape quickly, helping you save potentially thousands of dollars and rest easier at night knowing that you're in good hands.
What Sets SERVPRO Apart?
As a locally owned and operated company, SERVPRO of Putnam County can get to your home quicker.
SERVPRO of Putnam County not only delivers the best restoration services at the most competitive rates to homeowners but also offers commercial services to help property owners recover from extensive water, fire, and storm damages. We have the knowledge to clean and restore your property—and most importantly trust that our team is here for you.
Regardless of the type of damage sustained, SERVPRO has the tools and teams to help your home or business recover from its disastrous effects. Contact us anytime when you need a dependable team to help you rebuild your life.