Give Us A Call Day Or Night In Carmel After A Flood
9/29/2022 (Permalink)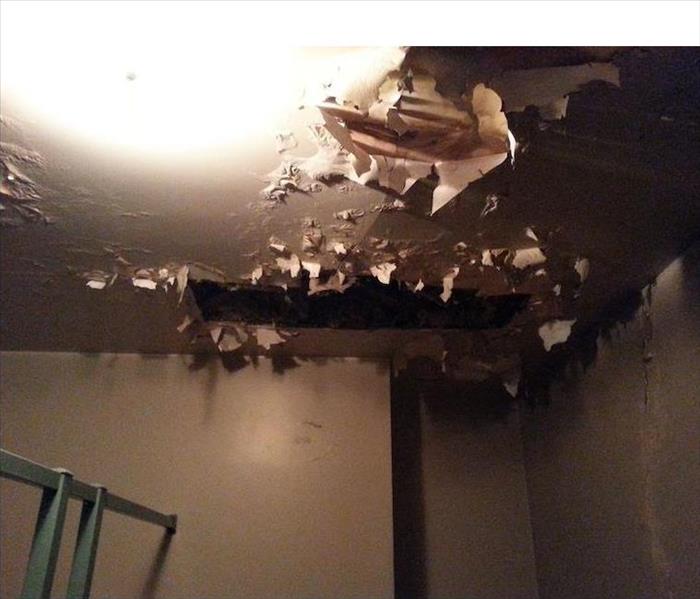 This celling was effected by high winds and torrential rains and our team arrived right away to begin restoration and prevent further damage.
Cleaning and Deodorization of a Flooded Carmel Basement
Knowing the best solutions for flooded basements in Carmel homes is not something that can happen without inspections and assessments of the environmental conditions. Our SERVPRO professionals commit to arriving at your house within four hours of the first notice of loss (FNOL), ensuring that no customer waits for experienced technicians longer than necessary. With flooding scenarios, cleaning and deodorization are vital components of returning a property to a safe condition.
Both of these practices become intertwined during the recovery process, where cleaning flood damage in Carmel homes also affects the lingering odors in residences. In many situations, eliminating microorganisms can help to reduce the concentration and severity of flood odors. The technicians of our team must assess the best approach to dry out the damage so that cleaning and later deodorization efforts can be useful in your house.
Many of the basements in the area belong to older homes constructed decades ago. The inspiration had not spread for finished lower levels at this point, so even now, many basements remain with concrete block walls and flooring. When age and hydrostatic pressures compromise a portion of the block wall, extraction and drying are priorities of our responding team responsible for emergency services. Water from the outside can carry in the dirt, mud, debris, and other threats. Cleaning up after this mess can only begin once the floors have been cleared of excess water and moisture.
Cleaning up after these flood damage disasters involves many possible cleaning agents, but few are as consequential and direct as chlorine-based cleaners. Because of their disinfection properties, these agents can also begin to nullify odors. Additional deodorization products can get used in the basement in portable machines like our thermal foggers. These units heat deodorization solutions into a vapor and can disperse it wherever the moving SERVPRO technician takes it.
Overcoming the lingering effects of a flood loss begins with the extraction and drying of the area. With the damages that remain, our SERVPRO of Putnam County team can offer effective and efficient solutions designed to protect your home and its contents. Give us a call anytime that you need us at (845) 228-1090.