Barbecue Safety in Putnam County, NY
6/28/2017 (Permalink)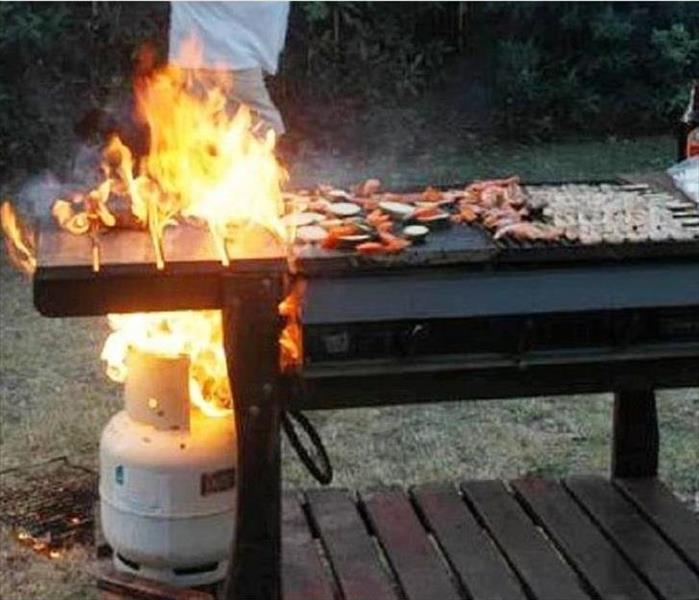 Don't let your summer barbecue turn into a trip to the emergency room or a call to the fire department! Follow these safety tips to keep it safe.
It's grilling season and we have enjoyed taking the cooking outside. Unfortunately, over 7,000 Americans get injured while using their backyard grill each summer. If you plan to fire up the bbq at your Lake Carmel home this summer, follow these tips to keep it safe.
Keep your grill at least 10 feet away from your house, including areas with overhangs.
Clean your grill regularly. Grease is a major source of flare ups so clean your grill after each use.
Check for gas leaks. You can make sure no gas is leaking from your gas grill by making a solution of half liquid dish soap and half water and rubbing it on the hoses and connections. Then, turn the gas on (with the grill lid open.) If the soap forms large bubbles, that's a sign that the hoses have tiny holes or that the connections are not tight enough.
Keep decorations away from your grill. Keep patio furniture, pillows and hanging baskets away from your grill, as they are highly combustible.
Keep a spray bottle of water handy.That way, if you have a minor flare-up you can spray it with the water to instantly calm it.
Keep a fire extinguisher within a couple steps of your grill. Make sure that you know how to use it!
Don't:
Turn on the gas while your grill lid is closed. This can cause the gas to build up and explode when the lid is opened.
Leave a grill unattended. No, this isn't the time to go prep the corn on the cob.
Overload your grill with food. In particular, fatty meats which can drip onto the flames and feed them, causing the fire to get out of control.
Use a grill indoors. No size grill is safe indoors. Between the fire hazard and CO2, it's dangerous to your home and your health.