Protect your Patterson home from water damage while you are on summer vacation.
7/18/2017 (Permalink)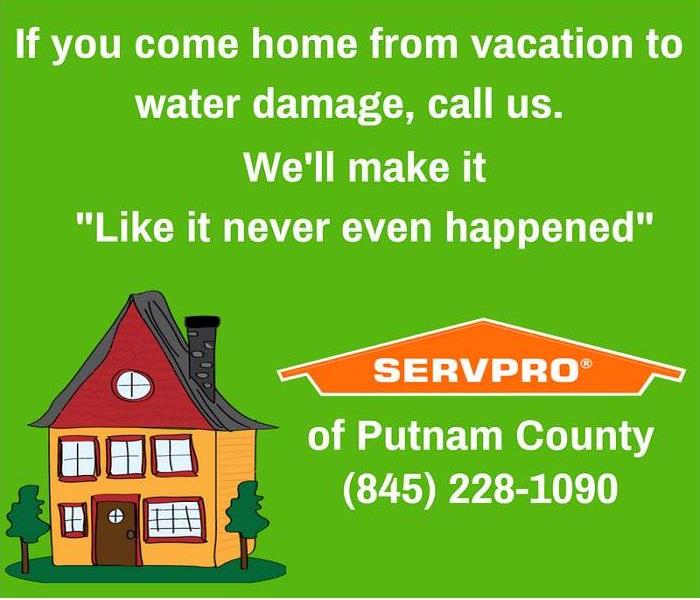 If you come home from vacation to water damage from a supply line leak, call SERVPRO of Putnam County at (845) 228-1090
Summer is here and many Hudson Valley families will be going on vacation soon. Take the following steps to make sure that your return home doesn't result in a call to us!
Make arrangements for someone to watch your house
Ask a neighbor or friend to be an emergency contact.
Leave written directions for alarm codes and any other information needed to care for your home care for your home.
To protect from intruders, a timer can be set on the lights to give the impression that someone is home. Either putting your mail on hold or having someone collect it also helps.
Do a walk through your house to make sure all windows are securely closed and locked.
Protect against water and fire damage
Shut off your gas on appliances and the supply tank
Turn off the water valves to toilets, washing machines, sinks, and the dishwasher.
Unplug electronics to avoid a short that can start a fire
Test your smoke detectors
Keep your thermostat at a moderate temperature
Clean up before you leave
Dispose of your garbage prior to leaving on vacation. It can attract pests and create a foul odor in your home.
Clean out your refrigerator of perishables
Double check that all toilets are properly flushed.
Hopefully, by taking these steps you will avoid coming home to a flood or fire damage but if you do, call SERVPRO of Putnam County at (845) 228-1090 to clean it up.