If you have water damage in Putnam County, take caution with wet appliances
7/28/2017 (Permalink)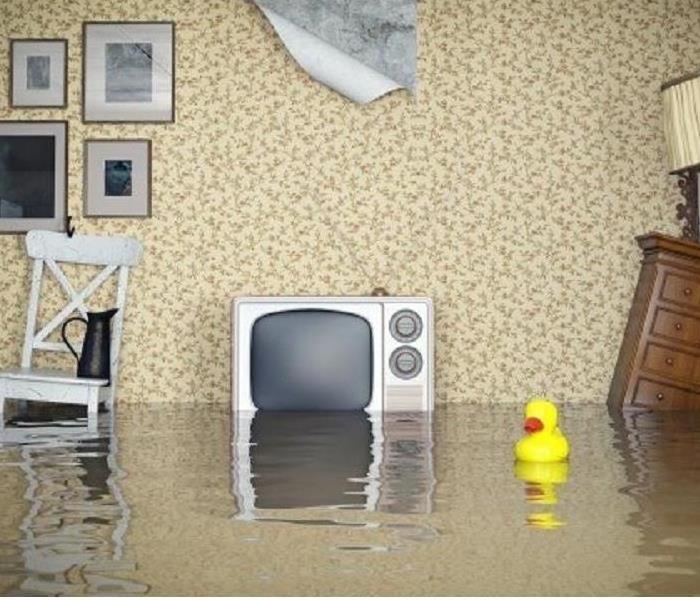 Your TV doesn't need to be floating in order for you to be concerned about electric shock.Never handle any electronics after exposure to water damage.
When water damage strikes a home, it can be from a variety of reasons. At SERVPRO of Putnam County, we respond to homes that have water damage from burst pipes, flooding, toilet overflows and supply line leaks. Regardless of the cause, it is important to proceed with caution in a flooded home. In particular, be careful if you have wet electrical appliances in your home.
Most likely there will be appliances and electrical devices such as T.V.'s and computers plugged in to electrical outlets in the wet areas of your home. Although it might be tempting to go in and "save" your laptop, keep your distance. You could suffer electric shock from water that you may not see in the appliance or outlet. Short circuiting electrical items also pose a fire hazard. We recommend that you go to your breaker and turn off the electricity to the affected areas, even if the area appears to be dry.
Our experienced team have handled water damaged appliances and other electrical devices. Our office staff work with your insurance agency to determine which items can be restored and which need to be replaced. Call us at 845-228-1090 if you have water damage in your Lake Carmel home. With over twenty years of experience, we know which steps to take and when to take them in bringing your home from disaster to "like it never even happened".