End of summer cleaning tips for Hudson Valley households
9/26/2017 (Permalink)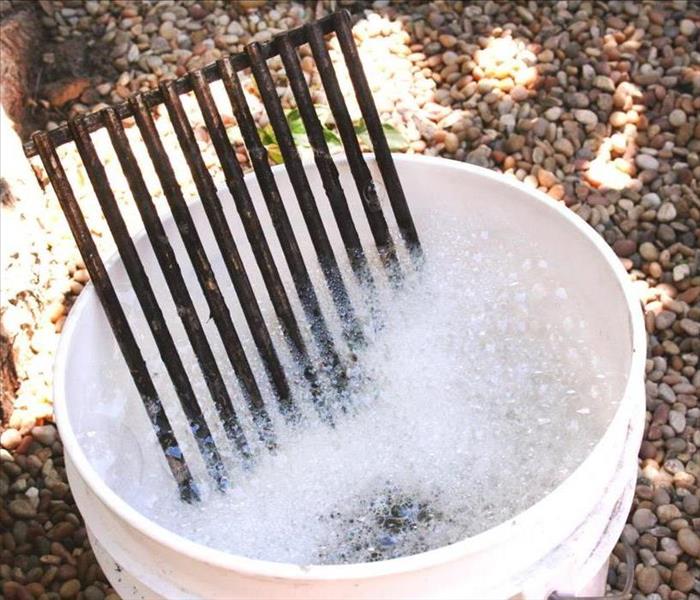 Soaking your grill grates in vinegar eliminates much of the scrubbing and makes you end of summer cleaning chore go much quicker!
With our late September heat wave having passed, it's safe to say that summer is officially over. It's time for Putnam County families to clean out that minivan of the remnants of summer and pack it all away.
Musty beach towels: Oops! Were some towels left wet in the car? Wash them with hot water with detergent and a cup of vinegar in the wash cycle. This will remove the odor. Pack them in a space saver bag until next summer!
Muddy sneakers: Let the mud dry completely. Then take the shoes outside and bang the soles together to remove as much of the dried mud as possible. Using a solution of warm water and hand dishwashing liquid and an old toothbrush, scrub gently to remove the remaining dirt. For stubborn dirt marks, scrub with a nylon pad. Wipe with a damp sponge or damp paper towels. Stuff the tennis shoes with clean paper towels and let them air-dry.
Plastic outdoor furniture: By the end of the season, these are filthy and often have mildew on them. Clean with a mild detergent and water. For very tough stains, put on rubber gloves and wet a clean sponge or brush with a bleach mixture (1 cup of bleach to 1 gallon of water), then wipe down the furniture. Scrub the stains until they disappear or won't fade.
Soiled outdoor cushions: Acrylic, polyester and cotton fabrics should be spot-cleaned by sponging with a solution of liquid dishwashing detergent and lukewarm water. Rinse with clear water and air-dry.
Dirty plastic pool toys: Mix 3/4 cup of chlorine bleach per gallon of warm water. Soak the prewashed toys for five minutes. Rinse and then air-dry. If the toys aren't used during the winter, store them in a closed container so they'll stay clean and dust-free.
The Grill: Warm soapy water and some elbow grease is needed to clean the grill. Once again, a soak in vinegar can also help the grates!
While we all are sad to see summer come to a close in the Brewster, NY area, who doesn't enjoy the crisp air, the sounds of leaves crunching under their feet and the cinnamon and apple smells that fall brings? Enjoy!