Fire Prevention Week in Putnam County, NY
10/5/2017 (Permalink)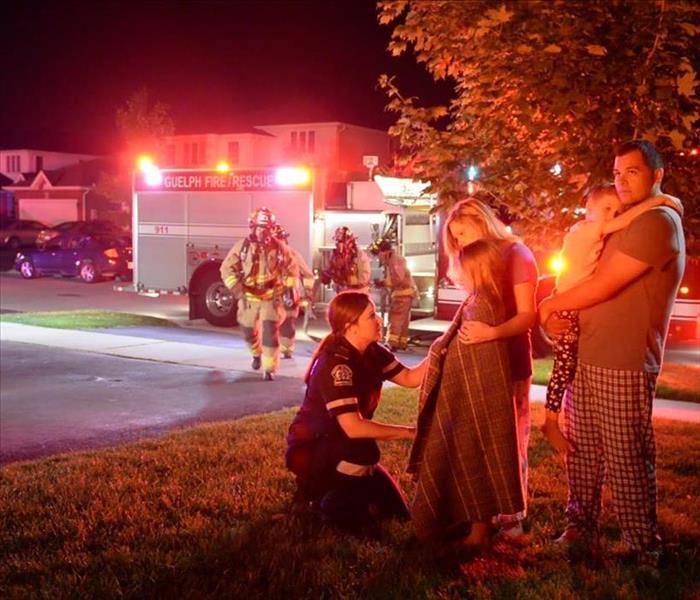 Plan an escape route with your family during Fire Prevention week- have at least 2 ways out as exits are often blocked during house fires.
October 8-14 is Fire Prevention Week- a time to make sure that your home has fire safety measures in place. In 2016, there were 1,345,500 fires reported in the United States. Every 86 seconds, one home structure fire was reported and every day, 7 people lost their lives to residential fires. At SERVPRO of Putnam County, we have seen firsthand the devastation a home fire can cause.
Many home fires are preventable with some forethought and care to minimize the risks. Among the common causes of home fires are leaving candles unattended, smoking and leaving unattended food cooking on the stove top. Make it a habit to double check that the flame is out and properly extinguished when smoking or using candles.
Electrical fires can start from overloaded outlets, equipment malfunction or overheated appliances. Clothes washers and dryers account for over 16,000 home fires each year. We recommend that you check your dryer vent to make sure there aren't any blockages and clean your lint screen regularly.
While lightning fires are not preventable, personal injury from lightning can be. Unplug electrical appliances, avoid using plumbing fixtures and do not use corded devices during thunderstorms.
Tragically, Christmas trees are one of the main causes of home fires. Take care to always keep trees well watered, do not use faulty Christmas tree lights and always turn off your tree at night. Try to avoid using a live tree in a room with a wood stove or near heat sources that will dry them out.
Here in upstate New York, many of us use alternative heat sources such as wood burning stoves and portable heaters. Take care to be sure that wood stoves are used properly and that wood is stored away from the stove and furniture and other combustible items are at least 3 feet from the stove. Portable electric heaters should also be kept 3 feet from flammable items such as curtains and bedding. Additionally, do not leave a space heater on overnight or while sleeping.
Despite taking preventative measures, home fires will still occur. Be prepared with ways to minimize the damage and protect your family from injury. Smoke detectors should be on each floor of your home and in each bedroom. Test all smoke detectors regularly and replace detectors over 10 years old. Keep fire extinguishers on each floor of your home and make sure you know how to use it. Many newer homes are equipped with a fire sprinkler system. If you are building a home, having a system installed may be included in your mortgage. Having rope or fire ladders on the second floor of the home can help family members escape. Make a family escape plan and rehearse it with your family.
Taking these measures can help minimize the damage of a home fire and protect your loved ones. If you do experience a home fire in your Carmel home, please call us at (845) 228-1090. We specialize in fire damage restoration – from cleaning soot, removing smoke smells and residue from personal items and cleaning up the secondary water damage rescue efforts leave behind.