Water Removal Required for a Waterline Break in a Mahopac Clinic
12/28/2022 (Permalink)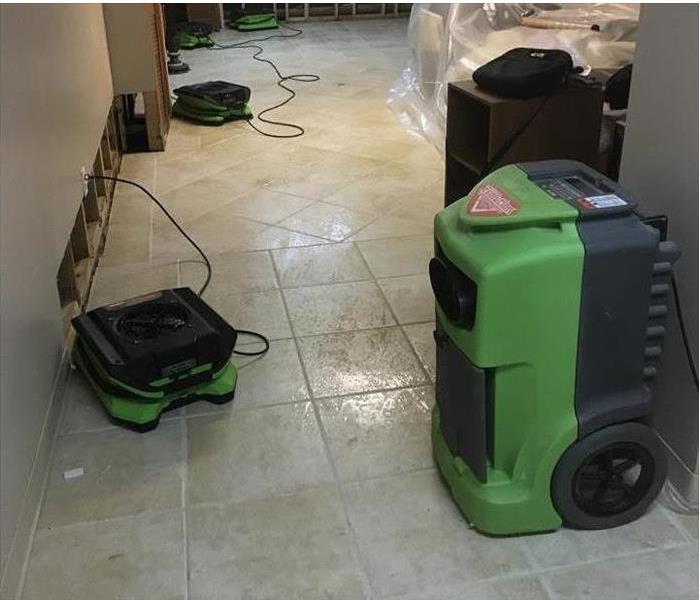 SERVPRO gives you access to expertly trained water remediation specialists that put vast resources and years of experience to work for you.
Our Scalable Water Removal Services Mitigates Loss
Due to the nature of a physician's practice, clinics in Mahopac have running water in almost every room. When a water line breaks or a sink's drain leaks, your clinic needs fast water removal services so you can avoid changing your patients' scheduled appointments.
Many doctors want to accommodate as many patients as possible and their office hours reflect this goal. Because of this, it could be many hours before anyone discovers a leaking water line. You need water removal services in Mahopac when you open the doors to your now-drenched clinic. SERVPRO can help. We're Faster To Any Size Disaster.
The amount of time the water remains standing in your clinic helps determine how much restoring your clinic might take. Calling us right away can reduce costs and make it easier for us to get things back to normal for you. Along with water removal and extraction, we also perform related tasks, namely:
Carpet cleaning and other treatments,
Repairing any plumbing or appliance leaks, and
Drying the interior of your clinic.
Our carpet cleaning specialists can save your floor coverings from secondary damage like mold and mildew. Special applications leave carpet fibers and padding unable to support the growth of unwanted microbes. Other applications prevent odors and staining. Carpet cleaning can also help dry the carpeting uniformly and to avoid stretching.
We can replace any water lines or plumbing fixtures that caused the leak in your clinic. Sometimes, it is only the fastener that we need to replace.
Finally, after all the extraction and cleaning, we can concentrate on drying everything. Drying out sometimes requires the removal of drywall sections when water levels reach a few inches above the baseboards. After we finish making the necessary flood cuts, we clean the area up, also. Opening these spaces allows air currents to dry the interior of wall sections, further preventing mold and mildew.
SERVPRO of Putnam County is always on standby to help other businesses, especially our local doctors and other medical professionals, with water removal services. Call our emergency services line at (845) 228-1090.