Mahopac Neighbors Breathe Easier When SERVPRO Is on the Scene for Cleanup and Restoration Services
5/26/2022 (Permalink)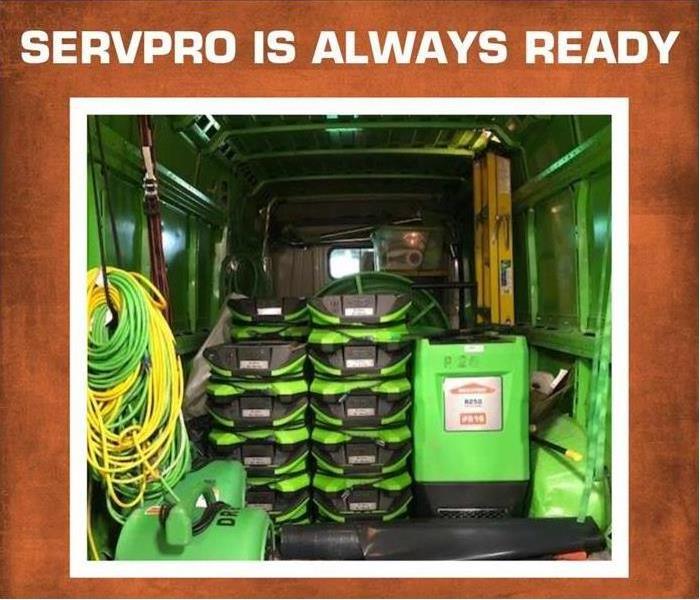 Whether your property damage is from water, fire, mold, or storms we are loaded and ready to role to your location at a moment's notice.
High-Quality Disaster Restoration Services: Why SERVPRO Is a Valued Resource for Mahopac Residents
When water, fire, mold, or storm losses challenge the Mahopac community, hiring reliable local restoration professionals is crucial. Not only is it easier to research the reputation of an established company, but it is also essential that you can contact your restoration contractor even years after the work completes with concerns. Our roots grow deep here in Putnam County, and you can rely on us to be here for you now and far into the future.
Mold Remediation
Summertime presents unique opportunities for mold damage in Mahopac. Mold spores need water to grow. Warm, sticky weather can raise relative humidity levels inside your home to over 60 percent, enough moisture to impel some strains of mold to begin multiplying on an organic surface such as drywall, woodwork, or insulation. If you run an AC system, the cold air near a warmer exterior wall can offer mold spores water if it condenses. A clogged drain on an air conditioner can drip as well.
Water tracked in from backyard pools and wet towels stuffed in duffel bags or behind bedroom doors are great mold incubators. Unvented dryers and steamy kitchens also increase the moisture load mold seeks out. When we work with you on a mold remediation plan, we sometimes spend more time advising on microbial limiting moisture control than completing the removal itself. This attention to resolving, not just responding to the problem, is why SERVPRO is highly rated by customers.
We use the Environmental Protection Agency (EPA) protocol when mold remediation, first locating the mold, then containing it with physical barriers, and often sealing the area with harmful pressure air scrubbing equipment. The mold scapes or bushes off and porous surfaces can respond well to gentle abrasives like soda blasting. A surface antimicrobial approved for this purpose by the EPA is used to inhibit the rebound of mold growth.
Water Damage
When most people think of Mahopac water damage, they imagine gallons of water pouring through a hole in the roof, backed up sewer pipes, or ruptured water heaters, flooding a house with inches to feet of water and contaminants. Although these severe events can happen, and we respond quickly when they do, many water losses seem less extreme yet can still cause significant harm, both to the structure and the contents of a residence.
Looking up at your ceiling or inspecting a wall can reveal signals that all is not well. Staining, bulging, and peeling paint are common signs of hidden water damage. Tiny leaks in pipes or connections can be the cause, or dried-out, cracked caulk around tubs and sinks might be allowing water to flow into cavities. Migration of water is inevitable and wet moves to drier areas. Permitting water to saturate building materials eventually leads to substantial deterioration and even collapse of everything from drywall and ceiling tiles to the framing and subflooring of your home.
When you notice something that makes you suspect water leaks scheduling an assessment by one of our experienced project managers is a smart move. Our Institute of Inspection, Cleaning and Restoration Certification (IICRC)-trained employees have many resources available to detect water losses challenging to trace, which is why SERVPRO is the call to make. Thermal imaging and moisture meters help map out a waterscape you had no way of knowing flowed out of sight. Once we sketch out the extent of the damage, we devise a plan and implement it immediately.
Fire Damage
Smoke and soot cleanup for your Mahopac home must proceed quickly, starting within hours of the firefighters leaving. Water removal usually happens first for safety reasons, but our Water Damage Restoration Technicians (WRT) shift seamlessly to their roles as Fire and Smoke Restoration Technicians (FSRT). Categorization of the sooty residues left on every surface is the key to appropriate cleaning, and our team is skilled in both evaluation and removal.
Hot and swift burning of wood and paper results in an ashy, crumbling soot that we vacuum or dry sponge to remove. The fire that smolders in fabrics and padding, electrical cords, or connections produces a thick, sticky "wet" soot. We use agitation, surfactant, and wetting agent-infused cleaners to loosen and wipe away. Protein-based soot from food and grease fires is thinly deposited and hard to dislodge. Solvents and abrasives help clear the almost colorless but pungent residue.
Odors cannot be ignored or merely masked with distracting perfumed agents. Our inventory of thermal foggers, hydroxyl generators, and access to ozone machines means we can eliminate the odor in the tiny particles carrying it through chemical changes at the molecular level. Our deodorization specialists' experience and skill in using these devices are why SERVPRO has success in neutralizing the malodors that otherwise would remind you and your family of the fire despite successful smoke and soot cleanup.
Storm Damage
Storm damage results in Mahopac due to high winds and heavy precipitation 12 months out of the year. The form the water takes as it batters your home might change, rain one month and snow another, but the harm your residence suffers is devastating regardless. Straight line or rotating winds can topple trees and utility poles, crashing into the exterior of your home and causing significant damage. It would help if you had the gaping holes in roofs and siding secured and broken windows and doors tarped or boarded up.
Our team can answer that call and take care of a broad range of other issues, including water removal after overland flooding or the draining of rainwater through breaches of your home's structure. The IICRC training of our managers and technicians master supports our efforts to evaluate water categories and contain and dispose of contaminated floodwaters appropriately.
Flood water can include sewage, bacteria, viruses, and other pathogens that can put your family in harm's way. In addition to containing and disposing of the fluids as hazardous waste following local regulations, we treat the affected areas with EPA-registered antimicrobials after a thorough cleaning. Our extensive training and experience with Category 3 water are why SERVPRO uniquely qualifies as an efficient and effective responder when your home suffers from storm damage.
SERVPRO of Putnam County is well-prepared to meet the needs of our community during and in the aftermath of a disaster affecting the safety of your household and the integrity of your home's structure. Call us at (845) 228-1090 to schedule an assessment and get the recovery rolling.