Develop a Severe Weather Attack Plan
5/20/2022 (Permalink)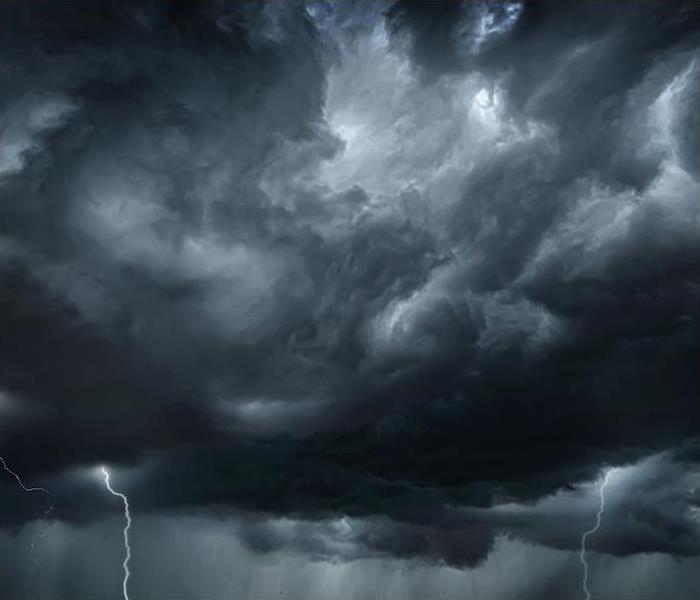 If you discover storm damage to your home or business, reach out to SERVPRO of Putnam County right away.
Extreme weather is a daunting scenario. Thunderstorms can bring about all kinds of dangerous consequences, and considering that there are around 100,000 thunderstorms throughout the United States every year, they happen very often.
In the spring and summer months, extreme changes in heat can trigger severe thunderstorms. Putnam County is an area that can see this issue a lot, as the temperatures can change 20 degrees in a single night.
Even though we can in no way manage the weather, we can take action to prepare for storms. From an emergency kit to a communications strategy to a plan for the aftermath, taking action to put together plans for storms is a critical way to reduce their effect on you and your home.
Your Extreme Weather Communication Strategy
If the weather takes a turn for the worse, having a way to talk with all of your family and being able to receive alerts from officials is essential. You should know the difference between weather watches and warnings so you know if you need to be on the lookout or sheltering from the storm.
It's also smart to have more than one way to receive alerts from officials, including an NOAA weather radio and your cellphone.
Make sure you've got a communication plan in place for your household. Have a delegated safe location in your home that everybody knows to get to in severe weather conditions.
Additionally, make a plan for communicating in case one or more household participants are away from home when a storm strikes. You don't want to get caught in a situation where you don't know whether family members are safe or not.
Your Severe Climate Emergency Kit
The best thing you can do to prepare for severe weather is put together an emergency kit, packed with all of the necessities that your family individuals want for a minimum of 72 hours of sheltering in place. It should be stored in your at-home storm shelter location.
The kit, includes nonperishable food, water, flashlights and batteries, first-aid supplies, and all other items anyone in the household might need.
Your After Storm Checklist
After intense weather, it's critical to make sure you're taking steps to improve your safety plan and swiftly deal with any damages to your home's structure. As soon as it's safe, check your property for damage, paying close attention to your roof and the seals around home windows and doorways.
If you do discover damage, you need a crew of reliable restoration experts! You can find the best in the business at SERVPRO of Putnam County. We will act fast.
When you are able to get all of your household members together, it's a great idea to do an audit of your whole security plan. Collect feedback on how effective the plan was so that you can improve the plan to keep everybody safer the next time severe weather happens.
If you discover storm damage to your home or business, you can count on SERVPRO to handle the restoration. We're here 24⁄7 to spring into action—get in touch with us today.